You are currently browsing the archive for the Political category.
I have a solution for the Trump situation. Can him. No not as in "You're Fired". Pickle him. That's right preserve. Hang with me, you'll see. Label the front of the jar 2017 with an expiration date of NEVER. On the back list the ingredients lest they be forgotten. Lots of vinegar. Equal handfuls of misogyny, arrogance, vitriol, vulgarity, hate, incompetence, stupidity, lies, bluster and distrust. 3 tablespoons each yellow dye #5 and orange dye #3 and 1 teaspoon red dye #2. Remove the jar to a shelf, deep in a dark basement between the haricot vert green beans and Shishito peppers. Check every so often to make sure the jar seal hasn't been broken. Leave the jar there for a long time. All the while remembering this failed experiment vowing never repeat it. Ever. Then let's all work toward perfecting the next presidential recipe and make it savory with a pinch of sweet.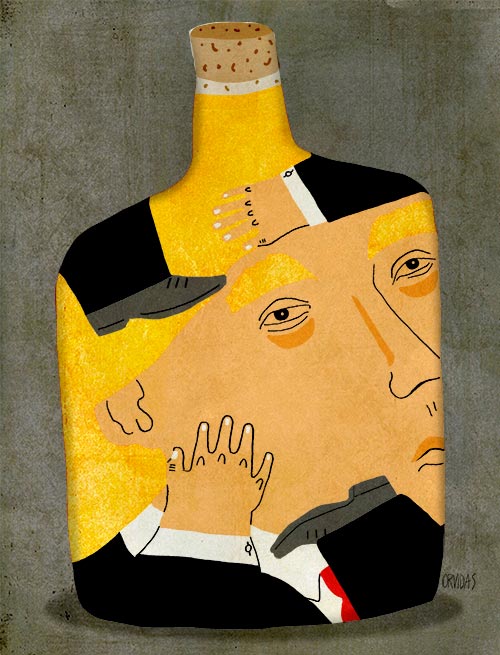 A few years ago I did monthly illustrations for Entrepreneur Magazine. As I was going through 2016 year end organizing I came upon this illustration about the tensions surrounding the EU and the US. Now that Brexit has occurred the issue is on the table again.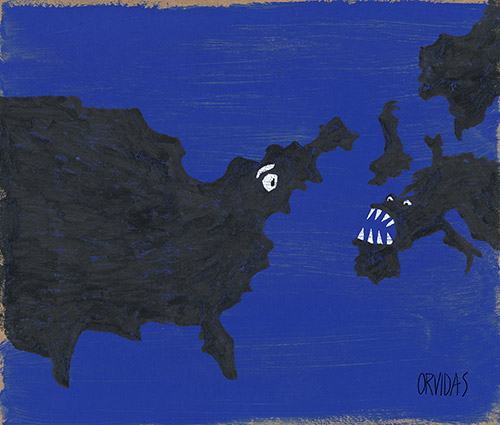 At this point in time it's no secret that there is horrible pollution in parts of China. It's so bad in cities such as Bejing, citizens wear masks when outdoors or stay home. Asthma is showing up in young children. The good news is that China along with support from other nations has vowed to clean up their act and their environment.