About a month ago during a two week stretch I was contacted first by Aviva Michaelov of the New York Times; second, Heather Hopp-Bruce of the Boston Globe and third, Jim Brooks of the LA Times. All three commissions were for black and white OP-ED pieces. It's always an honor to be asked and it's also bit unnerving. Each commission is usually wrapped up same day if not in few hours. Lots of people see these pieces so I hope I'm on my toes. Fortunately for me, all three art directors are great to work with. They are calm under pressure and they know their stuff.
The NY Times piece: In an election year, both political parties are pushing for their own healthcare reform bill and not in a bi-partisan manner. I began with a reference to the caduceous, then the Sisyphean angle and then the kite flyers. Aviva ruled out the caduceous sketches because she said the next day there was going to be an illustration in the letters sections that referenced the caduceous. We went with the politicians and the rock. When I opened the paper the next day, I saw my piece on the OP-ED side and I saw my republican/democratic caduceous idea in the letters section. According to Aviva, the esteemed illustrator, animator R. O. Blechman had submitted an unsolicited illustration of a caduceous with two democratic heads. Aviva suggested that it be changed to a republican and a democratic head. The same idea, at the same time in different cities!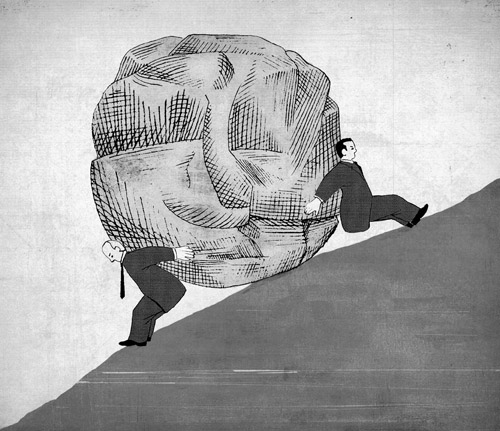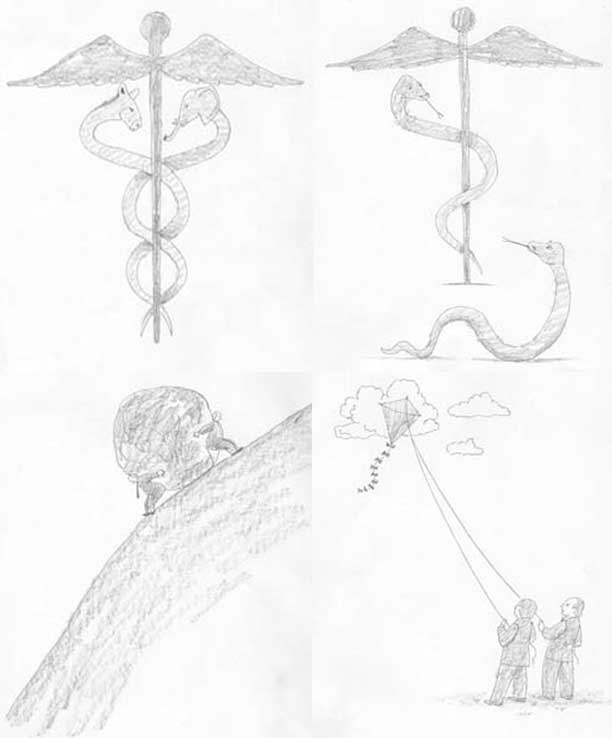 The Boston Globe piece: A primary care doctor with a two person practice has started a blog brimming with what she calls "close encounters of the life-saving kind". The 55 word dispatches are like medical haikus-fleeting glimpses of a particular moment in the doctor patient relationship. She concludes her OP-Ed article by saying that she has the ability to get to the heart of a matter and make things better and there's nothing more rewarding than that.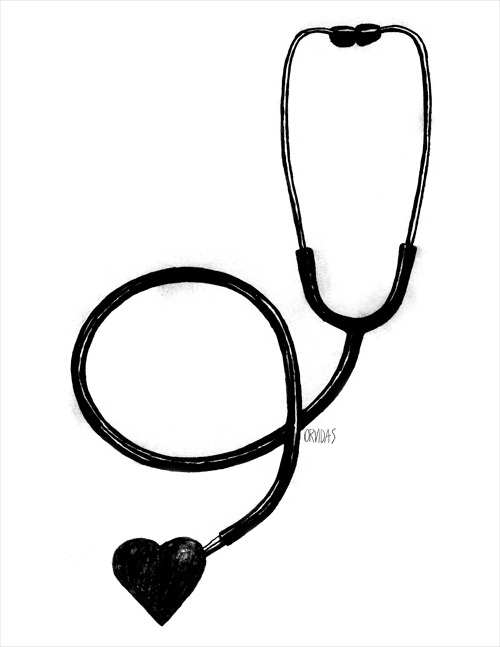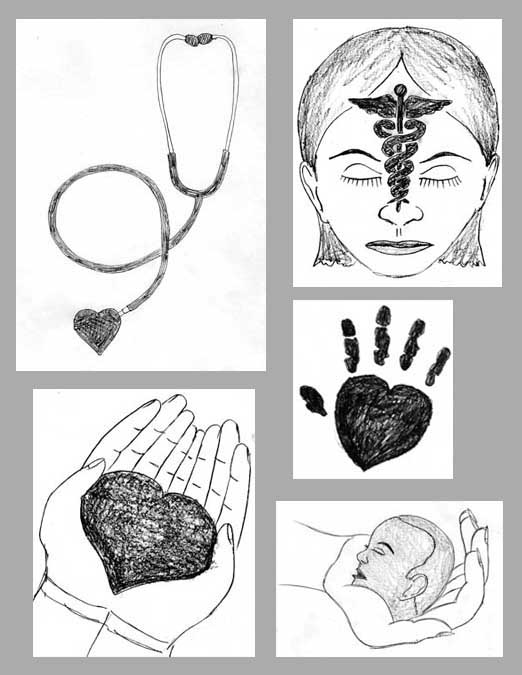 The LA Times piece: A first-person account of a California olive grower writing about how wars, economic troubles, etc. come and go but the olive tree endures. He talks about how his olive trees sustain him, his family and his community. My first sketch was a hand resembling the gnarly roots of this long lived tree. I later toned down the hand so it didn't look like it was struggling. In some sketches I incorporated another hand to show community. In the end the editor thought the hand reference was confusing. I tried a version where the tree was inverted to become the roots of the grower. Still no go. The image that ran was the ancient tree offering protection to the grower.